MARCO SANGERMANO
Confirmed Associate Professor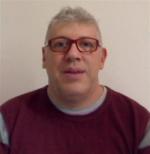 Scientific branch
ING-IND/22 - SCIENZA E TECNOLOGIA DEI MATERIALI
(Area 0009 - Ingegneria industriale e dell'informazione)
Publications
PORTO@IRIS - Publications Open Repository TOrino
Curriculum
Expand text

English CV Marco Sangermano was born in Stresa (VB) Italy on 9h August 1970. He took is Laurea Degree in Organic Chemistry at the University of Turin with 108/110 marks. After a period of 6 months in Bruxelles at the Universitèe Libre de Bruxelles, as a grant fellowship, he joined the Polytechnic Institute of Turin as a PhD student. He did his PhD on cationic photopolymerization of propenyl and vinyl ether monomers. He spent part of his PhD at the Perstorp Company in Sweden synthesizing new propenyl ether monomers and at the University of Mulhouse with Prof. Decker performing real-time FT-IR kinetics studies.

After his PhD graduation in January 2000 he spent one year as a post-doc to Professor's Crivello labs at RPI in Troy New York, USA. He spent other three years as post-doc fellowship at the Polytechnic Institute of Turin at the Material Science Department and he was appointed as Researcher-Assistant Professor at the same Department starting from January 2004. He has been confirmed in January 2007. From April 2007 untill October 2007 he spent a period at IPF in Dresden awarded by the German association Alexander von Humboldt. He became Associate Professor in December 2010. In 2010 he spent a period as visiting professor at Monash University, Melbourne, Australia. In 2011 he spent a period as visiting professor ast McGill Univwersity, Montreal, Canada. In 2013 he spent a period as visiting Professor at EPFL, Lausanne, Switerland.

His main activities are in the field of photopolymerization, structure-properties relationships studies, tailoring formulations for achieving specific properties, surface modifications by employing fluorinated or silicone additives and preparation of nanostructured polymeric coatings. He is coauthor of 150 papers on International journals of about 60 Conference participation and 6 patents. Italian CV Marco Sangermano, nato a Stresa (NO) il 9 Agosto 1970, si è Laureato in Chimica, presso l'Università di Torino con 108/110, nel dicembre del 1994. Dopo un periodo di 6 mesi presso l'Istituto di Chimica Organica dell'Universitrè Libre di Bruxelles, ha iniziato il suo periodo di Dottorato di Ricerca presso il Politecnico di Torino. Ha svolto la tesi di Dottorato sullo studio della fotopolimerizzazione cationica di sistemi a base di vinil etere e propenil etere. Durante il Dottorato di Ricerca ha svolto periodi di lavoro presso la Pestorp Ab in Svezia per la sintesi di nuovi monomeri propenil eterei, e presso i laboratori del Prof. Decker a Mulhouse, Francia, per lo studio in tempo reale di cinetiche di fotopolimerizzazione.
Dopo aver conseguito il titolo di Dottore di Ricerca ha svolto un periodo di un anno negli Stati Uniti come post-doc nei laboratori del Prof. J.V. Crivello, RPI, New York.

Al rientro in Italia ha lavorato presso il Dipartimento di Scienza dei Materiali e Ingegneria Chimica del Politecnico di Torino come assegnista di Ricerca. Ha vinto il Concorso come Ricercatore nel SSD ING-IND 22 nel Luglio del 2003 prendendo servizio come Ricercatore Universitario nel gennaio 2004. E' stato confermato in Ruolo nel Gennaio del 2007. Ha assunto ruolo di Professore Associato dal dicembre del 2010.
Da Aprile 2007 ad Ottobre 2007 ha speso un periodo di Ricerca presso il Centro di Ricerche sui Materilai Polimerici IPF di Dresda, in Germania, con il contributo della Fondazione tedesca Alexander von Humboldt. Nel 2010 è stato invitato come Invited Professor alla Monash Univeristy di Melbourne, in Australia. Nel 2011 è stato invitato alla McGill Univeristy, Montreal, Canada. nel 2013 è stato invitato come visiting Professor all'EPFL di Losanna, Svizzera.

Le sue principali attività di ricerca sono nel campo della fotopolimerizzazione cationica, correlazione di struttura e prosperità dei film polimerici ottenuti, modifica delle proprietà di superficie impiegando additivi siliconici o fluorurati, preparazione di rivestimenti polimerici nanostrutturati.

E' co-autore di 150 pubblicazioni su riviste internazionali, di circa 60 partecipazioni a congresso e di 6 brevetti.