BARBARA BONELLI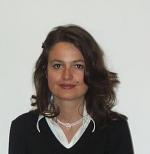 Full Professor

Coordinatore di Corso di Dottorato (Collegio di Dottorato SCIENZA E TECNOLOGIA DEI MATERIALI)
Member of Interdepartmental Center (PolitoBIOMed Lab - Biomedical Engineering Lab)

+39 0110904719 / 4719 (DISAT)
Barbara Bonelli è Professore Ordinario di Fondamenti Chimici delle Tecnologie. E' Coordinatrice del Corso di Dottorato in Scienza e Tecnologia dei Materiali, Membro del Comitato Esecutivo della Scuola di Dottorato e della Giunta Dipartimentale. Referente della Commissione Comunicazione del Dipartimento.
I suoi principali interessi di ricerca sono la sintesi e la caratterizzazione di (nano)materiali porosi per lo stoccaggio di gas (H2, CH4, CO2); la catalisi eterogenea e la fotocatalisi, con particolare riferimento alla rimozione di contaminanti emergenti. Su tali argomenti ha pubblicato oltre 189 lavori con un h-index complessivo pari a 34.
Scientific branch
CHIM/07 - FONDAMENTI CHIMICI DELLE TECNOLOGIE
(Area 0003 - Scienze chimiche)
Research topics

Sviluppo di fotocatalizzatori per la riduzione della CO2 con luce solare
Sviluppo di nanomateriali per sistemi ANG
Sviluppo di fotocatalizzatori per rimozione di inquinanti acquiferi con luce solare
Sviluppo di fotocatalizzatori per water splitting
Skills and keywords

ERC sectors

PE4_17 - Characterisation methods of materials PE5_12 - Chemistry of condensed matter PE4_18 - Environment chemistry PE4_10 - Heterogeneous catalysis PE5_6 - New materials: oxides, alloys, composite, organic-inorganic hybrid, nanoparticles PE4_1 - Physical chemistry PE5_2 - Solid state materials PE4_2 - Spectroscopic and spectrometric techniques PE5_1 - Structural properties of materials PE5_3 - Surface modification PE4_4 - Surface science and nanostructures PE5_4 - Thin films

SDG

Goal 6: Clean water and sanitation Goal 11: Sustainable cities and communities

Keywords

Co2 reduction Co2 storage Emerging contaminants Groundwater remediation Hydrogen Nanomaterials Photocatalysis Wastewater treatment Water splitting
Scientific responsibilities and other assignments

Awards and Honors

Abilitazione Nazionale I fascia conferred by MIUR, Italy (2013)
Certificate of Appreciation for Valuable Contribution conferred by ACS (American Chemical Society), United States (2013)

Fellowships

Other roles - Consorzio INSTM, Italia (2001-)
Effective member - Società Chimica Italiana, Italia (1997-)

Editorial boards

CATALYSTS (2018-), Guest Editor of magazine or editorial series
MOLECULES (2018-), Editor of magazine, editorial series, encyclopaedia

Conferences

Europacat2017/ EFCATS et al., Italia, 27-31/8/2017, Program committee
NANO VIII (4th International Symposium on Nanoporous Materials)/ University of Ottawa (CA), Canada, 7-12/7/2017, Program committee
V International Workshop Oxide 2012&AIZ day/ AIZ, Italia, 23-27/9/2012, Participation to the organizing committee
VII International Symposium on Group Five Elements/ University of Bologna, Italia, 8-11/5/2011, Program committee
V Congresso Nazionale AICING 2006/ AICING, Italia, 3-5/9/2006, Participation to the organizing committee

Roles as evaluator or expert

Matera+. 2014
EUROPEAN COMMISSION.