CARLO RICCIARDI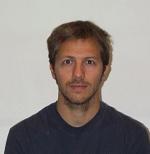 Associate Professor

Referente Corsi di Studio (Laurea Magistrale (Master of science-level) in NANOTECHNOLOGIES FOR ICTs)

+39 0110907398 / 7398 (DISAT)
Most recent publications
Show all publications in Porto@Iris
Funded research projects
Benessere animale e sicurezza alimentare: validazione di un metodo per l'identificazione e la misurazione di aflatossina B1 su fonti primarie (mangimi) per strumento di analisi portatile wireless, (2014-2015) - Responsabile Scientifico
Ricerca Regionale (non commerciale). Progetti di Ricerca su Fondi Strutturali e Nazionali
Countries
Departments

POTENZIALITÀ DEL SANGUE PER LA DIAGNOSI PRECOCE DELLE MALATTIE DA PRIONI, (2013-2015) - Responsabile Scientifico
Ricerca Nazionale (non commerciale). Progetti di Ricerca su Fondi Strutturali e Nazionali
Countries
Institutes/Companies
MINISTERO DELLA SANITÀ
ISTITUTO ZOOPROFILATTICO SPERIMENTALE DEL PIEMONTE LIGURIA E VALLE D'AOSTA
Departments

SERVIZI DI SUPPORTO ALL'IDEAZIONE E ALL'INTRODUZIONE SUL MERCATO DI NUOVI PRODOTTI/SERVIZI, (2011-2011) - Responsabile Scientifico
Consulenza commerciale. Consulenze e Contratti di ricerca
Countries
Institutes/Companies
Departments
Dipartimento di Scienza dei Materiali e Ingegneria Chimica

CANESTRO - SVILUPPO DI UN PRESIDIO DIAGNOSTICO PER LA RICERCA DI ESTROGENI SOMMINISTRATI A SCOPO FRAUDOLENTO NEL SIERO E NELLE CARNI DI BOVINO, (2010-2012) - Responsabile Scientifico
Ricerca Regionale (non commerciale). Progetti di Ricerca su Fondi Strutturali e Nazionali
Countries
Institutes/Companies
Regione Piemonte
BIODIVERSITY S.P.A.
Departments
Dipartimento di Scienza dei Materiali e Ingegneria Chimica

Realizzazione e caratterizzazione nanomeccanica di cantilever funzionalizzati: simulazioni ed esperimenti., (2008-2010) - Responsabile Scientifico
Ricerca Nazionale (non commerciale). Progetti di Ricerca su Fondi Strutturali e Nazionali
Abstract
Fabrication and nanomechanical characterization of functionalized cantilever: simulations and experiments.
Countries
Departments