ALl-Polymer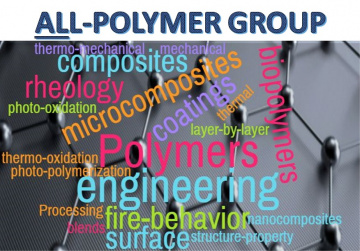 Specific mission
The research activity on polymeric materials is focused on different topics, namely: the design of bionanocomposites and the investigation of their structure-property relationships, surface and bulk treatments performed on different polymeric substrates (films, foams and fabrics) for flame retardant purposes, the preparation and characterization of polymer composites for structural, thermal or functional applications.
Main research Topics
ALL-POLYMER GROUP is developing the following research topics:
design and preparation of polymer systems (based on either synthetic or bio-sourced matrices) and of their micro- and nano-composite, with enhanced physico-chemical, thermo-mechanical and flame retardant properties. Further, structure-property relationships for the obtained systems are investigated.
surface engineering (coatings obtained through thermal or photo-induced curing, layer-by-layer depositions, flame retardant and/or antibacterial finishing for textiles)
Main partnerships
Università di Genova;
Università di Sassari;
Università di Trento;
Università di Napoli "Federico II";
Toronto University;
Ghent University, Ghent, Belgium;
Universitat Rovira i Virgili, Tarragona, Spain;
IPF Dresden, Germany;
Universitè de Lille, France;
Bolton University, Bolton UK;
National Engineering Research Center of Flame Retardant Materials, School of Materials, Beijing Institute of Technology P.R.China;
CNR Faenza;
CNR-IMAMOTER Ferrara;
CNR – IPCB Portici;
CNR-ISMAC Milano;
Centro di Ricerca Center for Space Human Robotics of IIT - Istituto Italiano di Tecnologia;
Radici Chimica SpA;
Directa-Plus SpA;
Solvay SA;
Zanzi S.p.A;
Centro Ricerche Fiat.
Projects and publications
Reference laboratories
Leader Permanent staff
PhD, Post-docs and Grant researchers